Preparedness Store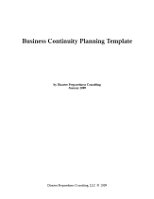 Business Continuity Planning Template - $49.99

The "buy now" link will take you to Paypal for the purchasing process, then return you to the DPC website to download the Business Continuity Planning Template.
The Business Continuity Planning Template is designed to provide a general framework for you to write your own continuity plan. The template walks you through a step-by-step process of designing, writing, and implementing your plan. Some of the key steps included in the template are:
Building a continuity team - Determine who the key players should be to plan for continuity.
Conducting a business impact analysis - This phase determines critical versus non-critical functions. In addition, the BIA helps establish Recovery Point Objectives and Recovery Time Objectives for each critical function.
Threat analysis - This phase determines and prioritizes threats based on likelihood and potential consequences to your organization.
Responding to a disaster - This phase determines necessary steps to activate the plan to respond and begin to recover from a disaster.